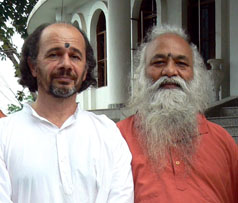 The practise of Kriya Yoga meditation is given in an initiation ritual from master to disciple. It is given to every sincere seeker who asks for it.
The initiation ritual goes back to Vedic times and comprises a unique symbolic dimension. During this retransmission, the profound being is awakened to its inner breath and merges with the soul. As it is said in India, the initiated person becomes "Dwija", literally meaning who is born twice. It's a second birth. It's a profound commitment. On this occasion the initiated person receives the Kriya Yoga meditation practise that is a participation and permanent encouragement for a spiritual life.
For the ritual it is asked to bring the following offerings: 5 flowers (of which 1 rose) symbolizing the astral body, 5 fruits symbolizing the causal body and a donation of 150 Euros that symbolizes the physical body.
Group meditations with Serge take place in Paris on one weekend per month. Serge also assures Kriya Yoga meditation weekends and retreats (see the planning in "news" section).
If you wish to receive initiation, kindly contact Association Kriya Yoga Sharanam at 01.43.58.03.50 or write an email to kriyayogasharanam@hotmail.fr
For more information: To commit oneself in the spiritual path of Kriya Yoga written by Serge Vallade.