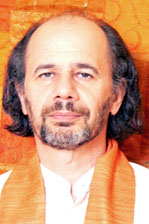 Serge Vallade was born in 1952. He founded the association "Kriya Yoga Sharanam" in 1991 with the aim of helping to spread Kriya Yoga in France in the lineage of Swami Shankarananda Giri.
At the age of 18 Serge lived through a determining inner experience that made him definitely adopt yoga practise as a means to perfect the human being. A graduate of "l'Ecole Normale de Yoga" of Maud Forget, he started to teach Yoga in 1979.
His encounter with his master Swami Shankarananda Giri some years later was a new step in his life. He had rediscovered his spiritual roots.
As from 1991, Swami Shankarananda Giri endowed him with all his trust to retransmit Kriya Yoga. Eight years afterwards only he felt ready to give initiation in this path. Ever since he hasn't ceased to be fully involved in his mission as Kriya Yoga Acharya, leading a spiritual life while putting up with the material world. In everyday life he is a Yoga teacher, accompanying individually the adherents drawn towards a spiritual path. He gives initiations and runs Kriya Yoga retreats in France, India and New Caledonia.